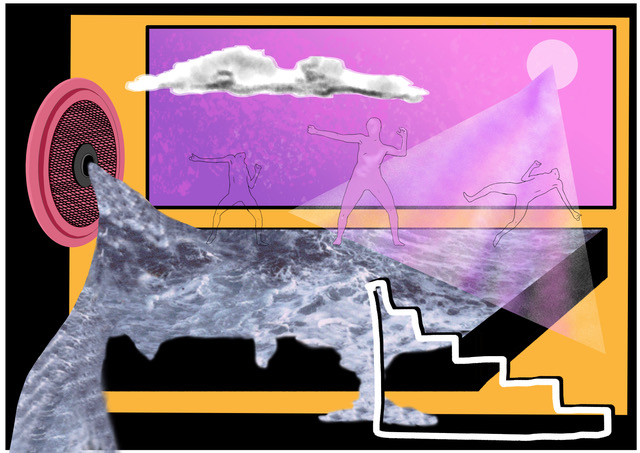 2022 creation
It's a rave-musical-comedy.
Imagine a party with Marilyn Monroe, Spiderman and Barack Obama. No sorry, wrong cast. We still have to find that list. Anyway, what's it about? Somehow it's about climate breakdown and our relationship with it. Like how the human species cause it, how it affects us, and how we respond to it – each a bit differently. Through choreography that draws on the embodiment of archetypes, with DJ Whimsy we embark on the art of storytelling beyond words to play with narratives of climate change. How can the music act as the climate? In what ways might the dancers affect the music and be affected in return?
With DJ Whimsy, we dive into rave dancing as a techno somatic movement practice, tapping into its regenerative energy potential. I am interested in practices of care, resourcefulness and enchantment. How do collectivity and joy, inherent to raving, act as key ingredients in addressing our planetary climate predicament?
Through this project, I am curious to tackle these questions through the already existing (queer)entanglement of humans and/as climate. It's time to overcome the absurdity of the idea of separation, and reconnect to pleasure in humour: as sweaty, ambiguous and relational.
Duration: 40-50 minutes
Performing artists and collaborators:
Choreographer: Tania Soubry
Dancers/performers/co-creators: 
Laura Doehler, Henrique Furtado Vieira and Pepa Ubera
Dramaturge: Alexandra Baybutt
Production Manager: Kathy Alcalde
Musician: Dan Nicholls
Sound assistant: Michael Picknett
Lighting Designer: Marc Thein
Consultant: Eva Martinez

Creation Period:
16 April -1 May 2022
A 2 week residency at Maison du Portugal in Paris, with a sharing on the 29th of April at la Fondation Biermans-Lapôtre in Paris

1 - 14 September 2022
A 2 week residency at JoJo Oulu Dance Center in Finland, with a sharing/open studio as part of OuDance

26 September – 21 October 2022  
A 4 week residency at the Chapelle Sainte-Marie, in Annonay, France 

24 October - 5 November 2022
 A 2 week technical residency at the Théâtre des Cordeliers, in Annonay, France, with an avant-première performance on the 5th of November.
 
Performances:
5 November 2022
Avant-première au Théâtre des Cordeliers 

6 + 7 December 2022
Première at the Grand Théâtre de la Ville de Luxembourg

April 2023 (exact dates to be confirmed)
3 performances at Le Centre Culturel Régional opderschmelz

 
A production by Vibrant Matter
 
Co-produced by:
Les Théâtres de la Ville de Luxembourg, Trois C-L – Centre de Création Chorégraphique Luxembourgeois, Le Centre Culturel Régional opderschmelz, within the frame of the programme « La Chapelle de la Danse » initiated by Cie La Baraka / La Chapelle – Abou Lagraa & Nawal Aït Benalla in Annonay.

Supported by: 
Kultur.lx, Annonay Rhône Agglo « En Scènes and Fondation Biermans Lapôtre »

Subventions:
Fondation Indépendance