🌊 choreographing, performing, sounding & facilitating 🌱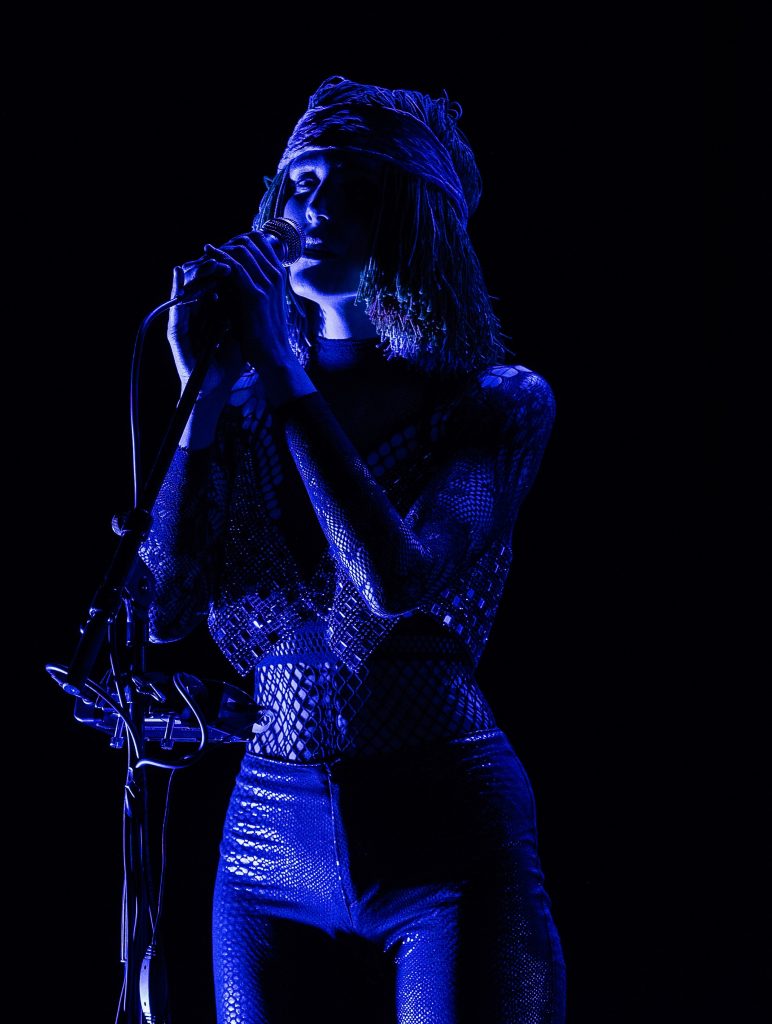 I am a trans-disciplinary artist, performer and choreographer working with the body, atmospheres, language(s), voice(s) and sound. Through sensuousness, humour and solidarity, my practice and work are motivated by a political ecology of things and by a poetic re-enchantment of the world. Following tensions, curiosities and desires, I am preoccupied with regeneration on an individual, social and planetary level, using fictive imagination to deal with the present and create possibilities.
Choreographic work
DJ Whimsy or what will the climate be like? (2022)
(Brave (K)new R/Wave) Listening Space (2021), a sound-based installation
Brave (K)new R/Wave (2019/20), a research + creation project
soul-scapes (2018), a duo in collaboration with Catherien Elsen
beat'n'shine (May 2013-May 2014), a duo in collaboration with Nuno Brito
soulsongdances (2013)
Two people arriving together (2009)
I'll crane for you (2008), a Deborah Hay solo adaptation
Back to the roots with Jimy (2008)
it (instead of twenty-one-words) (2006)
Wholly (2003)
.
As within so without. Each system of the body has its own quality and is equally important to the healthy functioning of the greater whole. The internal relationships of the body offer a beautiful model in microcosm of the relationships between individuals, within and between society and the world. With this approach I engage in social and environmental justice as an embodied practice, integrating all the multiple parts of ourselves, in an interplay of the body in and of the world. This was already partly the subject in one of my earliest choreographies "Back to the roots with Jimmy" (2007), integrating the various qualities and energy centres within oneself in relation to one's family.
I am interested in relationality, a political ecology of things and an intersectional approach to transformative justice and liberation. Considering our bodies to be made up of human and non-human material challenges our perception of a divide between human and nature and puts us on the same playing field with each other and with non-human entities, thus away from an anthropocentric hierarchical position to an engagement based on mutual relationship and cooperation. It has been the intention of my work to help this sensitization to the interconnection of all, such as through affect and aesthetics. In the choreography "soul-scapes" (2017) we question the colonial, extractive and greedy human behaviours, in this case of space mining and space colonization, and through a rite of passage which includes tending to the grief of the pain caused thereof, as well as that of looking inside and the abandoning of a dream that is not sustainable, we transition towards a more mature world of "we" instead of "me", and of responsible stewardship. In times of isolation and regressive nationalistic closing of borders, the project "Brave (K)new W/Rave" looks at what are our shared values. Through the notions of pleasure, jouissance, collectivity and regeneration we verbally and physically rave the problems we are facing and the worlds we do want to shape. I shared this project in the event "Towards Regenerative Cultures" (2020), created with our collective Exit Map at The Green, Nunhead Community Centre, where we held a workshop and engaged in conversations with the local community around the subject.
Inspired by critical, feminist, queer and post-colonial theory, as well as by vital materiality and liberated psychologies, I am committed to "liberation" as a holistic term that urges us to consider the links between economic, political, sociocultural, spiritual and psychological transformation. As the strands of individual, community and ecological wellbeing are interdependent, I look at how much of our most intimate psychological suffering is connected with the historical contexts in which we live and the ways we have learned to think about them, such as hierarchical and dissociative ways of thinking, current neo-colonialism and exploitative forms of transnational capitalism and twenty-first-century globalization.
By working with the body and the voice as vibrant matter constantly becoming in poiesis, I am interested in performing the absurdity of the separating and "othering" mechanisms created in our thinking which permitted the extent of racist, sexist, homophobic, ableist and environmental violence, as well as the idea of normal. I am thus on one hand interested in turning toward the psychological wounds and collective trauma—the symptoms and signs of suffering—caused by these social arrangements, such as fragmentation, survival of the fittest or the impact of individualism. How the body remembers what consciousness has forgotten or what has been repressed, like a social amnesia. I am here interested in what Tada Hozumi coins cultural somatics. On the other hand, I look at how we can articulate and celebrate difference and multiplicity, grounded in love and belonging. As transnational migration is affecting enormous numbers of people, many of us carry multiple maps and discourses, and need to negotiate complex identities that are both emergent and hybrid. I am looking at fluid and nomadic identity as a possibility for re-imagining selfhood in two ways: first to step aside from styles of selfhood that contribute to polarization and oppression, and second, to explore the possible function of identity as a plurality of sites for connecting with oneself and others. In my choreographic work and practice I intend to create liminal spaces for the reclaiming of psychic multiplicity and complex identity as pathways to interconnectedness.
I collaborate with other artists and with people from different fields, devising work through participatory methods. It is my desire to work in ways that are accessible and inclusive, and to reach beyond a dance audience, such as through immersive, participatory or environmental theatre, as well as by inviting people into the project, research, reflections and questions through workshops, conversations and writing. By extending that connection to online platforms or videos to cross distances and reach a wider community, as well as tending to and sharing the process as much as the product, my choreographic work aims to contribute to a sustainable and on-going practice and dialogue.
.
.
.
I co-founded and am the artistic director of Vibrant Matter.
Currently I am a recipient of the DYCP (develop your creative practice) grant by the Arts Council England.
I am an associate artist at Trois C-L, Luxembourg, a co-director of the dance and performance collective Exit Map, and a member of Chisenhale Dance Space, both in London, UK.
I am also a member of IETM (International network for contemporary performing arts) through the three year Network Grant by Kultur.lx.
I am furthermore a board member of Adhoc, the first housing co-operative project to be built in Luxembourg, core to my practice in commoning and in the commons.
.
.
.
.
Theaters and venues my work has been performed in:
Trois C-L- Centre de Création Chorégraphique Luxembourgeois, Grand Théâtre de la Ville de Luxembourg, MUDAM, Casino – Forum d'Art Contemporain, Théâtre des Capucins, Mierscher Kulturhaus, opderschmelz, Kinneksbond, Théâtre de la Ville d' Esch-sur-Alzette, Atelier D, Kulturfabrik, Le Cercle, (Luxembourg), LABAN, The Place, Conway Hall, Trip Space, George Wood Theatre and The Green (London, UK), Colchester Arts Center (UK), Chapter (Cardiff), Sophiensale, Laborgras and Uferstudios für Zeitgenössischen Tanz Berlin (Berlin, DE), Mains d'Oeuvre (Paris), Les Repérages at Prato (Lille), L'Autre Canal (Nancy), Le Pacifique (Grenoble), dietheater (Vienna), Valvesali (Oulu, Finland), Cankarjev dom (Ljubljana),Platform of Young Choreographers at Dancetarium in Zagreb (Croatia), Lubelski Teatr Tańca, Centrul de Cultura GEORGE APOSTU (Bacau, Romania), Tangente (Montreal) and I-Dance Festival (Hong Kong).
.
Residencies I had for my work:
Trois C-L, Banannefabrik, Mierscher Kulturhaus, Opderschmelz, AtelierD (Luxembourg), Rosas/P.A.R.T.S. and dansecentrum jette (Brussels), The Place, The Green, Clarence Mews (London, UK), Folkestone Dance (UK), Laborgras and Uferstudios für Zeitgenössischen Tanz Berlin (Berlin, DE), Wachsfabrik (Cologne, DE), Mains d'Œuvres (Paris), CDC – Le Pacifique (Grenoble), JoJo Dance Centre (Oulu, FIN), the Firkin Crane (Cork, IR), Lubelski Teatr Tańca (P), George Apostu Arts Centre (Bacau, RO).
.
Co-producers and financial support for my work:
Arts Council England and the Conway Collective (U.K.), the Ministère de la Culture du Luxembourg, Trois C-L, stART-up de l'Œuvre Nationale de Secours Grande-Duchesse Charlotte, Focuna, Fondation Indépendence, Mierscher Kulturhaus, opderschmelz, Kinneksbond (LU).
.
Companies I worked for:
Vedanza, Zephyr in Zanussi, Small Room Dance, Kimatica Studio and the postgraduate dance company EDge, working with Rachel Krische, Rosemary Butcher, Rosemary Lee, Fillip Van Huffel, Gabriela Tropier and Jonathan Lunn.
.
Choreographers and (dance) artists I worked for:
Laura Wilson, Tino Seghal, Filip Markiewitz, Simonetta Alessandri, Laura Doehler, Vangelis Legakis, Fernanda Munoz-Newsome, Aloun Marchal, Annick Pütz, Gianfranco Celestino, Christina Jensen, Anaïs Bouts and Meredith Nadler.
.
Collaborations and collectives I was working with:
Explorer and the Conway Collective.
.
Films and videos I danced for and/or choreographed:

Lovebinge (2020) fiction/documentary film by Simona Ze (London)
No more secrets (2018), music video by Lunar and the Deception (London)
Trust (2018) music video for Maria Di-Tommaso (London)
Stream (2017), artist video for Queen of the Wild
Mnemonic (2016), artist video by Ingrid Munk Plum
The Rage and the Grace (2005), video creation of my choreography filmed by Warren Chapman, music by Greg Hall, performed by Anais Bouts and myself, London
Dance in the Woods (2001), a student collaboration in a dance film by Thierry De Mey, in Salzburg
.
Other Projects:
March 2022-March 2023:
Choreographic Music Expansion and Transformation DYCP (develop your creative practice) grant by the Arts Council England

2014 – 2016:
Artist in residence as part of the Artists' Support Program at the Conway Hall in Holborn, London.

May 2015:
Performing in Paradiso Lussemburgo Pavillon by Filip Markiewicz at the Venice Biennale

2014 – 2015:
Choreographic research and composition program Prototype II, "Vocal presence in choreographic scores", Royaumont, France

September 2010:
Performing in "Circadanse" by Annick Pütz at the Luxembourg Pavillon within the World Exhibitoin in Shanghai

September 2009:
Participating in a project by Sally Marie, as part of Choreodrome, at the Place, London

18/8 – 5/9/2008:
Deborah Hay Solo Commissioning Project in Findhorn (Scotland)

September 2004:
A two week placement with the Trisha Brown Dance Company in New York City, researching her choreographic and collaborative processes.

11/7 – 13/8/2002:
Dance-web participant (Vienna Dance Festival) with coach Vera Mantero

17/2 – 27/2 2002:
Dance Extensions for Universities (Erasmus intensive program Belgium)
.
.
.
Professional Dance and Performance Education:

2011-2013
Masters in Performance Making, at Goldsmiths University of London , working with Theatre Maker Anna Furse, composer Greame Miller, Performance makers Mischa Twitchin, Andrea Cusumano, Franko B, Steve Paxton, Marie-Gabirelle Rotie, Julia Bardsley, Nick Parkin, Gerladine Pilgrim, Chitra Sundaram, Maja Mitic and scenographer Sally Jacobs, among others.
2008-2009
MA Contemporary Dance Performance, at The Place, London Contemporary Dance School, consisting of my adaptation and performance of "I'll crane for you", choreographed by Deborah Hay, which I learned at the solo adaptation project in Findhorn, Scotland.
2007-2008
EDge, Postgraduate Dance Company, at The Place. Working with Rachel Krische, Rosemary Butcher, Rosemary Lee, Fillip Van Huffel, Gabriela Tropier and Jonathan Lunn, with Lauren Potter as artistic and rehearsal director .
2002-2005
SEAD, Salzburg Experimental Academy of Dance, (Austria), working with Susan Quinn, Bernard Baumgarten, Libby Farr, Martin Sonderkamp, Gus Solomon, Mia Lawrence, Ori Flomin and Rebecca Murgi, among others
.
.