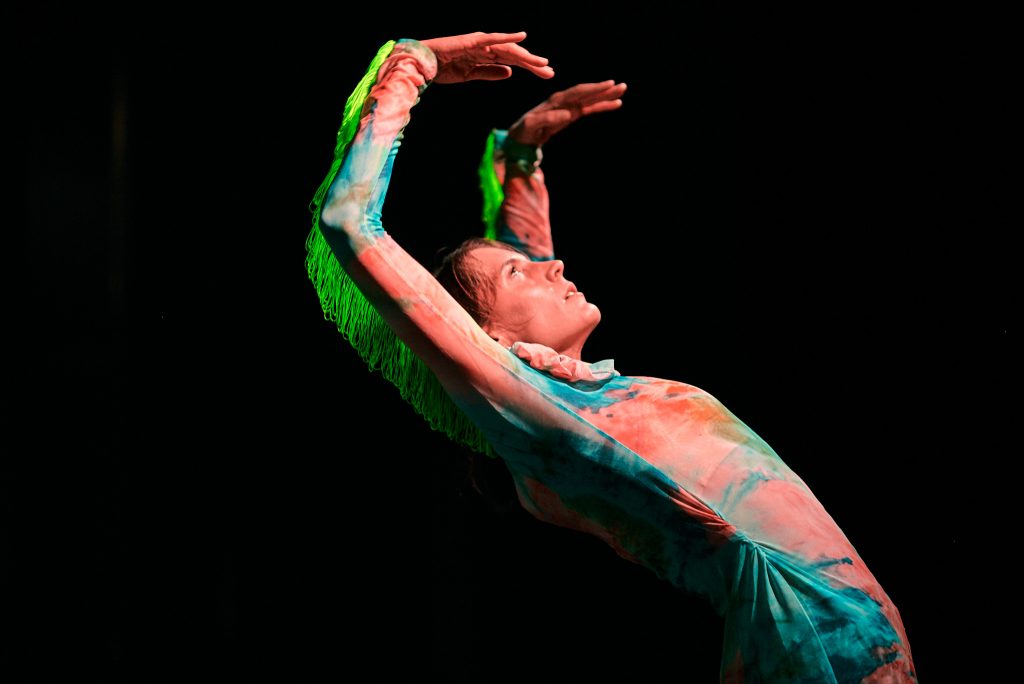 Physically raving on verbal raving.
I invite you to listen, to reflect, to dance alone, with me, with us. Lie down if you want to, get up when you want. When did you last dance into trance? When did you last cry at the news? How can we connect and direct our collective energies? How can we live together like a big heart beating together in poly-voices? Let's rave regenerative stories.
This research project investigates the socially empowering essence of the Rave movement, which grew parallel to the rise of neoliberalism. At the same time, it researches and reflects upon current political and social situations, and the need for a united World in these times. It uses spoken word and storytelling, the body and voice as the primary instruments, the material from which it creates lyrics, melodies, beats, poly-voices, dances and states. Choreographing a space and atmospheres, through music, sound, bass frequencies, text, lights and hosting/inhabiting it with all cells, soul and bodily being in shaking/pulsing/bouncing/flowing/streaming movement/dancing. Raving about, with, for and towards a politics of collectivity and  interconnection.
I am working with dance artist and researcher Alexandra Baybutt as dramaturgue, and musician, director, performer and theatre maker Michael Picknett as musical assistant and collaborator.
Installation and workshop:
2 July - 29 August 2021 
(Brave (K)new R/Wave) Listening Space as part of the Triennale Jeune Création, at Casino, Forum d'Art Contemporain (LU)

17th of July 2021 
Let's Rave Regenerative Stories workshop at Rotondes as part of Triennale Jeune Création (LU)  
Research and creation residency:
31/7 - 11/9/2020 at Uferstudio Berlin with a sharing on the 14th of September 2020 at 20.30

Research sharings/work-in-process performancs:
29/2/2020 as part of Together We Are at The Green Nunhead, London
3/10/19 at Trois C-L, Luxembourg
19/9/19 at Lubleski Teatr Tańca, Lublin, Poland

Research project residencies:
23, 26-29/9 and 1-3/10/19 at Trois C-L, Luxembourg
6-20/9/19 at Lubleski Teatr Tańca, at the Cultural Centre in Lublin, Poland
12-23/8/19 at The Green Nunhead, London
27/6 - 1/7/19 at  Folkestone dance, UK

Supported by Trois C-L - Centre de Création Chorégraphique Luxembourgeois, Focuna, DKollectiv, Folkestone Dance, The Green Nunhead, Lubelski Teatre Tańca and Uferstudios Berlin.

Stay tuned…
A first sharing of that journey took place on the 20th of October 2018:
Brave (K)New Rave N.1 at Alerte face à l'événement at Atelier D by DKollektiv, Dudelange (LU): http://dkollektiv.org/index.php/category/events/

Raving through the history of our mine industry, through post-industrialism and the rise of neoliberalism, from the CECA to the European Union and now? Creating a livesoundscape through multiplied voices and spoken word in a now abandoned and silent atelier hall that belonged to the ARBED -to the Luxembourgish steel industry -which once was filled with industrial noise. An invitation to rave on the raving.