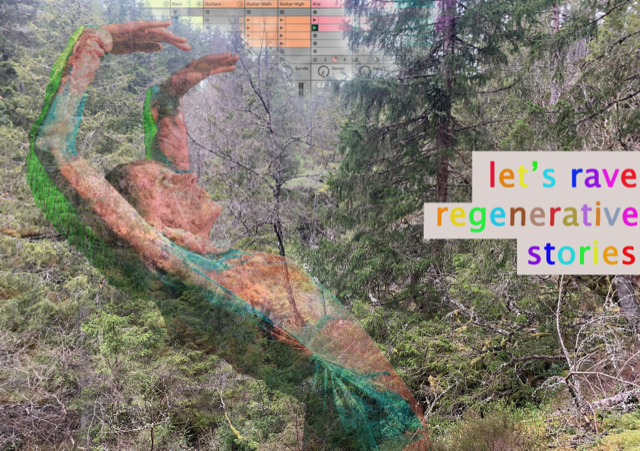 I will be facilitating a 6 hr workshop ( lunch break included) on the 17th of July at Rotondes, as part of (Brave (K)new Rave) Listening Space, my installation within the Triennale at Casino – Forum d'Art Contemporain Luxembourg.
A creative workshop journeying through movement, reading and listening, interweaving writing, vocals, recording and mixing to finally dance to our own dance-music.
The workshop will start with a somatic movement warm-up, connecting to your body-mind and getting the energy flowing. You'll proceed with reading existing inspirational material about regenerative cultures, shaping change and collective joy, as a stimulus for movement improvisation leading into stream of consciousness writing, in the language(s) of your choice. The invitation is to use fictive imagination to write regenerative stories.
The participants will share and develop their texts, refining chosen lines, working on poetry, rhythm, flow and/or melody, to be recorded as text, spoken word or sung, over chosen backing music, consisting of instrumental elements such as bass drum and synths bass, all in the studio on ableton.
Tania and the group will edit it into a danceable track/session, transferring different clips to a MIDI controller so they can DJ it live and play/trigger different beats/clips, bringing in and/or out different elements. The participants will spend time exploring dancing and relating to the track, exploring movement qualities connected to the movement warm-up and/or proposed by us. Finally, they will create a score including DJing/manipulating the MIDI, MCing over the music (there will be a microphone to add live text/vocals), dancing and/or other activities we add to the score, each investigating listening and relating with each other and all the elements.
https://www.rotondes.lu/fr/agenda/lets-rave-regenerative-stories